To accompany the opening of the new musical, a recording was released of the original cast of Starlight Express. The record sleeve states:
"This recording contains the main songs from "Starlight Express", which opened at the Apollo Victoria Theatre on March 27th 1984. It was recorded live in the theatre over three performances in April 1984 and subsequently at Audio International Studios, London."

- Andrew Lloyd Webber
The album is dedicated "to Imogen and Nicholas and that day on the Valley Railroad". This is a reference to Andrew Lloyd Webber's children, for whom he wrote the show.
Starlight Express in the theatre runs about two hours twenty minutes. The Cassette of the double album will take about one hour forty minutes before it bursts. So we've had to streamline the show a little, though the story and the dream are the same. Of course, if you come round to the theatre we could tell you some more, who wins the other races, and all about Control, who owns the railroad. But that would all be strictly off the record.

- Richard Stilgoe

The recording was released on Double LP, Double Cassette, and Double CD. It was re-mastered and re-released in 2005 on Double CD.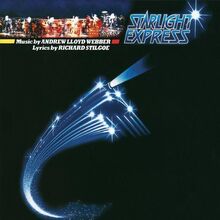 Song List
Act 1
Act 2

* Produced by Alan Shacklock
** Remixed by Dave MacKay
Cast List
Trivia
Sarah Brightman vocals can be heard during the song AC/DC, singing the high notes she is known for within the background alongside the components.