The most recent incarnation of Starlight Express toured the UK, produced by Bill Kenwright Ltd 10 years after closing in London's West End. The tour opened at The New Wimbledon Theatre on 11th May 2012 followed by its press launch on Monday 14th May 2012.  The UK tour finished in February 2013, and was revived later in the year as the 2013 Asia Tour with predominantly the same cast and production materials.
Production Specifics
Bill Kenwright by special arrangement with The Really Useful Group ltd
Music by Andrew Lloyd Webber
Lyrics by Richard Stilgoe
Orchestrations by David Cullen and Andrew Lloyd Webber
Additional Lyrics by David Yazbek
Designed by John Napier
Musical Supervision by David Steadman
Lighting Designer Nick Richings
Sound Designer Ben Harrison
Casting by Debbie O'Brien
Musical Director Dave Rose
3D Film Produced for Principal Large Format by Alexandra Ferguson
3D Film Directed by Julian Napier
Additional Projection Design by Mark Howett
Skating Consultant Michal Fraley
Associate Director / Choreographer Mykal Rand
Original London and Broadway Productions Directed by Trevor Nunn
Direction and Choreography by Arlene Phillips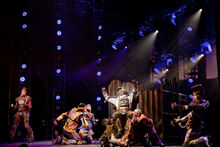 This iteration of the touring production that started as the 2003 US Tour, and continued as the UK Tour 2004-2008, had some developments since its last run in New Zealand in 2009. New material was added in the form of "I Do" as a new 11th hour love duet for Pearl and Rusty; Ashley the Smoking Car was replaced by Duvay the Sleeping Car. The deleted number Girls Rolling Stock was re-introduced, giving Duvay and Buffy a few minutes in the spotlight. New contemporary sounding orchestrations were added, the lighting system modernised and updated, including a flying lighting bar used cleverly as a set piece, used to alter the space for scenes such as "Poppa's Blues". This worked as a small nod to the original London staging where the under-side of the bridge was used to enclose the space for this scene. The set also had LED screens across the back of the stage, which were used for graphics to enhance the action onstage.
Costume Makers - Dennis and Shirley Fitzgerald. Head of Wardrobe - Scott Sheady.
Tour Dates
2012
| | |
| --- | --- |
| 10 - 19 May | New Wimbledon Theatre |
| 29 May - 16 June | Alhambra Theatre, Bradford |
| 19 - 30 June | Lowry, Salford Quays |
| 3 - 14 July | Playhouse, Edinburgh |
| 17 - 28 July | Liverpool Empire |
| 31 July - 18 Aug | BIC Windsor Hall, Bournemouth |
| 21 Aug - 1 Sept | Royal Concert Hall, Nottingham |
| 4 - 15 Sept | Cliffs Pavilion, Southend |
| 18 - 29 Sept | Venue Cymru, Llandudno |
| 2 - 13 Oct | His Majesty's Aberdeen |
| 16 - 27 Oct | New Theatre, Hull |
| 2013 | |
| 29 Jan - 9 Feb | Millennium Forum, Londonderry |
Media
Daily Record - Edinburgh. Interview with Arlene Phillips.
TV appearance - The Alan Titchmarch Show, "I Do". Kristofer Harding and Amanda Coutts.
TV appearance - This Morning - "Whole Lotta Locomotion", 31st July 2012.
Gallery

Cast