The Joburg Theatre production of Starlight Express was the first licensed, professional non-replica production. The show used material in line with the 2012 UK tour, featuring Duvay, four Nationals, Traxes etc, with live staged races on an original design set.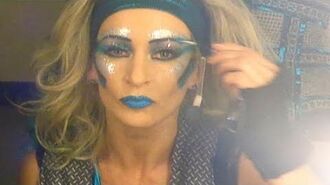 Production Specifics
At last, one of the best loved and longest running musicals in theatrical history explodes onto the South African stage with a brand new production helmed by acclaimed, award-winning director JANICE HONEYMAN.
ANDREW LLOYD WEBBER's sensational STARLIGHT EXPRESS races to The Mandela at Joburg Theatre for a strictly limited season July 2nd - September 1st 2013.Joburg Theatre Press Release
The show opened with "Control", a young boy, onstage playing with his train set, in a departure from the usual staging of Control being a recorded voice-over. Although Krupp is not included in the licensed UK Tour version of the show, Hip Hopper 3 doubled to provide an extra Component for AC/DC. The production also included "The Starlight Express" onstage, giving Poppa's actor a new costume in silver. The swings featured onstage as extra carriages and Marshalls.
As the first licenced, non-replica production this show had "carte blanche" with the design. The set design featured premium onstage seating, creating an in-the-round performance space. As seen in the video simulation, the set design contained easter eggs on the theme of the train design, with the overhead plan resembling an oncoming steam train. Similar to the UK Tour, the set included two small mobile ramps.
The costume design intentionally scaled back the larger-than-life "train" elements of John Napier's work, aiming for a human scale, character-led interpretation. Although the costume designs did not include belts, the "handles" were included as essential to skating in train formation. Also, while the base costumes kept the feel of regular street clothes, many characters added "race packs" to their costumes for the races.
Cast and Creative Team
| | |
| --- | --- |
| Director | Janice Honeyman |
| Choreographer | Karen Bruce |
| Assistant | Elliot Nixon |
| Skate Coach | Wendy Gila |
| Musical Direction | Clinton Zerf |
| Ataging | James MacNamara |
| Costume design | Sarah Roberts |
Role
Cast
Role
Cast
Rusty
David Schlachter
Pearl
Carly Graeme
Greaseball
Andrew Webster
Dinah
Ziyanda Yako
Electra
Ferdinand Gernandt
Buffy
Trudy Fredericks
Poppa
Bongi Mthombeni
Duvay
Joanna Abazoglou
Hopper 1
Brandon Lindsay
Purse
Vanessa Brierley
Hopper 2
Jarryd Nurden
Wrench
Stefania du Toit
Hopper 3
Clint Lesch (Krupp)
Volta
Dionne Song
Flat-top
Zak Hendrikz
Joule
Pulane Rampoana
Dustin
Weslee Swain Lauder
Trax
Frank Joubert
Caboose
Michael Riff Themba
Trax
Ruhrgold
Keaton Ditchfield
Swing
Michelle Lane
Turnov
Martin van Heerden
Swing
Jerome Julies
Nintendo
Reg Hart
Swing
Nicol Sheraton (Dance Captain)
Prince
Stefan Carstens
Swing
Xola Willie
Swing
Diani Gernandt (Dance Captain) (Control's Mother) blog
Gallery
Video