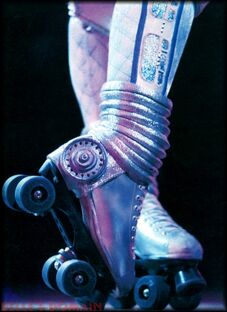 Starlight Express has the unique feature of being performed on roller skates. Originally exclusively quad skates, the introduction of the Trax added inline skating to the show.
History
The idea of staging Starlight Express on roller skates came from designer John Napier. During work for Cats on Broadway, Napier and director Trevor Nunn were walking together in Central Park, where they came upon a group of street dancers on roller stakes. As Lloyd Webber recalls, 'this gave [Napier] an idea. Trains have wheels. So do roller-skaters. QED [our] actors could be on roller skates.'[1]
Inline skates
Unlike the rest of the cast, who perform on quads, Trax use inline skates to perform stunts and tricks throughout the show. Inline skates can be faster than quads, but are less stable, resulting in Trax being able to perform little choreography.
Trivia
In the London production, skates were coloured with car spray to match the characters' costumes. Swings skates would build up thick coats of paint from being re-coloured.
In the early 1990s, when the london production was being revamped, an attempt was made to move the skates from quads (so very 1980s) to inlines (so very 1990s). Apparently trying to teach singer/dancers to dance on inlines was a total failure!

While most characters use black wheels and toe-stops, Electra sometimes has red wheels, and red toe-stops have been seen on various characters.
The Bochum production's shoes were usually for ice skating, but since no regular roller skates met the expectations, they switched to ice skating ones.
Until the 25th anniversary the Bochum skates' team had used 135,000 wheel axles, 300,600 pairs of shoelaces and 22 km plasters (which are also their responsibility).
↑ Unmasked