The first non-replica, regional production of Starlight Express in the US was staged at Tuacahn, Utah from 6 June to 27 October 2013[1].
Production specifics
The production was staged at the Tuacahn Amphitheatre, a 1,920-seat open-air venue set against the natural desert[2]. It was presented in rep with productions of Mary Poppins, Thoroughly Modern Millie, and Disney's Mulan.
The production, which used the same material as the 2012 UK tour, was directed and choreographed by a long-time Starlight Express performer and associate director, Louanne Madorma. Despite Madorma's familiarity with the productions created by the original creative team, her production was created from scratch. Some of its costumes – created by designers Marlo Rawlings and Clark Schaffer – have gone on to be used for other US regional productions.
The cast had only 22 days to learn their lines and dances, as well as figure out how to skate. Due to this taxing schedule and the demands of performing outdoors, the show was not performed entirely on skates. Moreover, during daytime rehearsals, temperatures onstage reached triple digits.[3]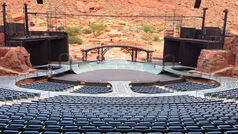 Cast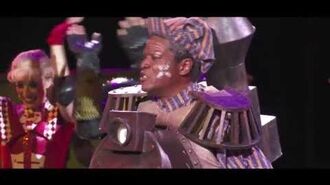 Control – Payton Kemp
Mom – Jennifer Evans
The Engines
Greaseball – Todd Dubail
Electra – Dustin Dubreuil
Rusty – Steven M. Goldsmith
Poppa/Starlight Express – C. Mingo Long
The Carriages
Pearl – Delaney Westfall
Dinah – Gail Bennett
Buffy – Kate Scott
Duvay – Erica Bryce
The Trucks
Hopper 1 – Eymard Cabling
Hopper 2 – Clinton Sherwood
Hopper 3 – Ben Tucker
Dustin – Derek Brazeau
Flat Top – John Preator
Caboose – Daniel Gutierrez
National Engines
Nintendo – Eric Badique
Ruhrgold – James Blashaw
Turnov – Michael McGurk
Components
Purse – Troy McGee
Wrench – Talese Hunt
Joule – Veronica Yeager
Volta – Jayme Wappel
Marshalls
Reviews
Gallery
References